Testimonials
December 31, 2018
Dear Ron and Tina,
My name is Jessie and I am the canine element of this letter. First of all, I would like to thank you for all that you do for our families and we four-legged ones.
In June of 2018, I was diagnosed with incurable cancer, a spindle cell carcinoma that invaded my liver, spleen and pancreas. I wasn't expected to live past early August, if that. My Mommy took me for acupuncture treatments and Chinese herbal medicine therapy, with the sole idea of keeping me comfortable and pain free. Because of this, my Mommy's deep love for me, and my amazing stubbornness, strength and will to live, I carried on for 4 ½ more wonderful and happy months. My "farewell tour" was the best one a doggie could ask for and we did all of my favorite things and spent a lot of time with my friends, both human and canine.
On November 10, I suffered a stroke and subsequently died in my sleep in the loving arms of my Mommy. They said it wouldn't happen this way, but my Mommy and I were a close-knit team and I knew this was what she wanted for us. She always said I was her soul mate and the love of her life.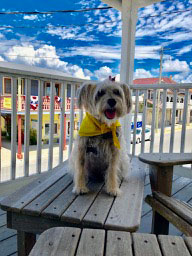 Throughout this time, she kept telling me how fortunate we were because, even though we were not rich in money, she was able to afford my treatment and felt deeply for those who had to put their furry loved ones to sleep because they couldn't afford their care. After I left for Rainbow Bridge, she knew she had to give back somehow and found your organization. We hope that our donation can help someone to provide care for their dog and, if their cancer is curable, give them more years than they may have been able to have otherwise. Mine was not curable, but I know there are so many others who have cancers that are, so if we can contribute in some small way to help them out, that would make us very happy.
Please allocate our donation to your Florida location, as that is where we live and hope we can keep it local. Also, if you are having events and fundraisers in our area, my Mommy would like to know about them.
Wishing you well in your continued endeavors and may 2019 be kind to us all!
Love,
Jessie (in spirit)
Adopted from Dunedin Doggies Rescue on March 2, 2008 – about 1 year old.
Adopted by Rainbow Bridge on November 10, 2018